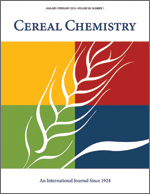 Cereal Chem 62:124-129 | VIEW ARTICLE
Effect of Fat and Sugar in Sugar-Snap Cookies and Evaluation of Tests to Measure Cookie Flour Quality.

A. M. Abboud, G. L. Rubenthaler, and R. C. Hoseney. Copyright 1985 by the American Association of Cereal Chemists, Inc.

The effect of fat and sugar on sugar-snap cookie spread was studied. The fat type appeared not to be important, but the amount of fat affected the cookie. The amount of sugar did not affect cookie spread except in non-creamed systems. Sugar particle size also did not affect cookie spread except at the coarsest size (greater than 35 mesh). Protein content, water absorption, starch damage, MacMichael viscosity, alkaline water retention capacity, and pentosan contents were determined for 44 wheat cultivars representing four classes (hard red, club, soft white spring, and soft white winter wheats). Cookie diameters were determined in two different laboratories using slightly different baking procedures. Relatively poor correlations were found among cookie diameter and the other factors studied. In a protein series within a cultivar, a good correlation was found between protein content and cookie diameter. However, the slope of the line was relatively small. Thus, protein content appears to have a minor effect compared to the unidentified genetic factors that strongly affect cookie spread.