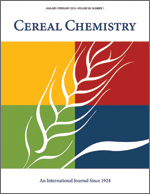 Cereal Chem 62:130-133 | VIEW ARTICLE
Factors Affecting Cookie Flour Quality.

A. M. Abboud, R. C. Hoseney, and G. L. Rubenthaler. Copyright 1985 by the American Association of Cereal Chemists, Inc.

Time-lapse photographs were taken to observe changes that occur in cookie diameter during baking. Cookie diameter is a function of the rate of spreading and the setting point of the cookie dough. Rate of spreading was greater and expansion time longer for good quality (soft wheat) cookie doughs compared to poor quality (hard wheat) cookie doughs. Compression tests showed that both doughs underwent a decrease in viscosity as temperature was raised. When compression was measured on doughs heated to a relatively low temperature (40 C), there was a large difference in force between doughs made from hard and soft wheat flours, with soft wheat dough exhibiting less resistance to compression.