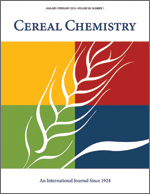 Cereal Chem 62:134-136 | VIEW ARTICLE
Evaluating Cookie Spread Potential of Whole Wheat Flours from Soft Wheat Cultivars.

C. S. Gaines and J. R. Donelson. Copyright 1985 by the American Association of Cereal Chemists, Inc.

Methods for evaluating whole wheat flour cookie spread potential were compared. The following were statistically evaluated for correlation with whole wheat flour sugar-snap cookie diameter: particle size index, straight-grade flour MacMichael viscosity, and sugar-snap cookie diameter; whole wheat flour alkaline water retention capacity, whole wheat temper, and level and extent of ginding; whole wheat flour particle size and ash, protein, and moisture contents; and whole wheat flour cookie dough liquid level. Because no good predictive correlations were found across cultivars, whole wheat cookie spread potential was concluded to be evaluated best by test baking and measuring cookie diameter. Cultivars with a softer kernel texture produced larger whole wheat cookies. Within the cultivar, whole wheat flour cookie size was significantly affected by flour particle size and moisture content.