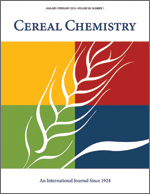 Cereal Chem 62:150-152 | VIEW ARTICLE
Note: Soluble Sugars in Five Endosperm Types of Sorghum.

D. S. Murty, U. Singh, S. Suryaprakash, and K. D. Nicodemus. Copyright 1985 by the American Association of Cereal Chemists, Inc.

Total soluble sugars and their composition were analyzed in five endosperm types of sorghum (Sorghum bicolor). Total sugar values were highest (2.47-3.41%) in the sugary and high-lysine types and intermediate (1.79-2.03%) in the vani and basmati types. The glucose + fructose fraction predominated in the sugary and high-lysine types, whereas sucrose was the major component in the two vani types.