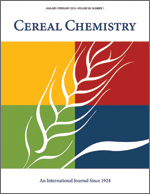 Cereal Chem 63:1-3 | VIEW ARTICLE
Classification of Chinese Rice Varieties by Electrofocusing.

Y.-J. Guo, R. Bishop, H. Ferhnstrom, G.-Z. Yu, Y.-N. Lian, and S.-D. Huang. Copyright 1986 by the American Association of Cereal Chemists, Inc.

Examination of the prolamin fractions by electrofocusing allowed categorizing 25 varieties of Chinese rice into four major groups. Two bands (pI 5.3 and 7.7) are constitutive. Four major protein bands allow differentiation of Indica, Japonica, and glutinous rices and their hybrids and also indicate the application of physicochemical treatment. Minor bands allow further differentiation within each group.