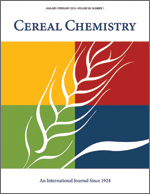 Cereal Chem 63:9-13 | VIEW ARTICLE
Nutrient, Antinutrient Contents, and Solubility Profiles of Nitrogen, Phytic Acid, and Selected Minerals in Winged Bean Flour.

S. Sri Kantha, N. S. Hettiarachchy, and J. W. Erdman, Jr. Copyright 1986 by the American Association of Cereal Chemists, Inc.

Protein, fat, mineral, and antinutrient content of the meal of 12 cultivars of winged bean (psophocarpus tetragonolobus) seeds grown in Sri lanka were determined. Protein and oil contents in dehulled seed flour ranged from 37.4 to 46.3 and from 20.9 to 26.5% on dry weight basis, respectively. Of the antinutritional factors, phytic acid and trypsin inhibitor levels were 1.0-1.7% and 52.2-99.5 trypsin inhibitor units per milligram of flour, respectively. Tannin content in the whole meal varied between 0.2 and 0.7 mg of catechin equivalent per gram of flour. pH modification markedly affected the solubility of nitrogen, phytic acid, and minerals in seed meal slurries. Nitrogen solubility dropped from 32% at pH 2.0 to 12% at pH 4.0. Conversely, phytic acid was 25% soluble at pH 2.0 and 48.0% soluble at pH 4.0; at neutral pH, the solubility of nitrogen and phytic acid were 50 and 80%, respectively. Phytic acid solubility decreased drastically to 5.5% at pH 12.0, but nitrogen solubility remained high at 72%. The solubility of calcium, phosphorus, and zinc decreased as the pH was increased from 2.0 to 6.0 and above. Such results demonstrate that differences in solubility of nitrogen and phytic acid can be utilized to prepare a protein concentrate with low phytic acid content.