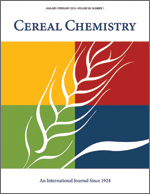 Cereal Chem 63:18-21 | VIEW ARTICLE
A 30-Minute Conditioning Method for Micro-, Intermediate-, and Large-Scale Experimental Milling of Soft Red Winter Wheat.

P. L. Finney and L. Andrews. Copyright 1986 by the American Association of Cereal Chemists, Inc.

Conditioning wheat in 30 min involved a 2% pretemper for 15 min, a prebreak, a final temper for 15 min and an optional second prebreak. The method was highly successful for milling 200 g of soft red winter wheat on two Quadrumat Juniors, 1.5 kg on an Allis-Chalmers mill, or 10 kg on a Miag Multomat mill. Flour moisture, yield, ash, damaged starch, and cookie quality were comparable whether tempered 18-24 hr or tempered a total of 30 min using the prebreak methods described.