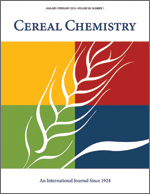 Cereal Chem 63:381-383 | VIEW ARTICLE
Role of Electrostatic Forces in the Interaction of Soy Proteins with Lysozyme.

S. Damodaran and J. E. Kinsella. Copyright 1986 by the American Association of Cereal Chemists, Inc.

The nature of the interaction between lysozyme with soy protein isolate, soy 11S, and soy 7S fractions was studied using a turbidity method. Complete dissociation of soy protein lysozyme complexes occurred at an ionic strength of 0.12M; however, below this ionic strength the extent of dissociation was affected by pH. These observations suggested that electrostatic forces were involved in the interaction between lysozyme and soy proteins. The interaction between lysozyme and soy 11S was stronger than that of lysozyme and soy 7S, suggesting that the surface electronegativity of soy 11S was greater than that of soy 7S. It is proposed that similar protein-protein interactions may occur in protein blends during processing. Such interactions may affect the functional behavior of individual protein components in protein blends.