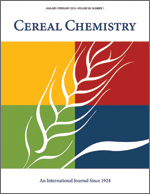 Cereal Chem 63:384-387 | VIEW ARTICLE
Phosphorus Fractions in the Grain of Diploid, Tetraploid, and Hexaploid Wheat Grown with Contrasting Phosphorus Supplies.

G. D. Batten. Copyright 1986 by the American Association of Cereal Chemists, Inc.

Phosphorus was extracted from 17 wheat genotypes (in three ploidy groups) grown at contrasting levels of phosphorus supply. Total phosphorus, which ranged from 0.14 to 0.71% P in dry mature grains, was highest in diploid and lowest in hexaploid wheats and was very highy correlated (r=0.99) with phytate phosphorus. Wheat ploidy did not alter this relationship, so selection of hexaploid wheats for lower grain total phosphorus is suggested as a means to obtain lower grain phytate concentrations.