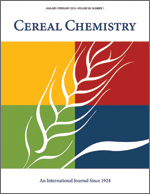 Cereal Chem 63:387-390 | VIEW ARTICLE
Lipids in Proso Millet (Panicum miliaceum) Flours and Brans.

K. Lorenz and Y. S. Hwang. Copyright 1986 by the American Association of Cereal Chemists, Inc.

The lipid composition of flours and brans of nine proso millet varieties was determined. Free lipids in proso millet flours ranged from 3.20 to 4.06% and in bran from 3.45 to 6.84%. Bound lipids ranged from 0.47 to 0.89% and from 0.30 to 0.70% in flours and brans, respectively. Fatty acids were determined by gas-liquid chromatography. Linoleic acid, oleic acid, and palmitic acid were the predominant fatty acids in the free lipids of flours and brans. Free and bound lipids extracted from flours were separated by thin-layer chromatography. In the free lipids, hydrocarbons, sterol esters, triglycerides, diglycerides, and fatty acids were present. In the bound lipids, monogalactosyl diglycerides, digalactosyl diglycerides, phosphatidyl ethanolamine, phosphatidyl serine, and phosphatidyl choline were tentatively identified.