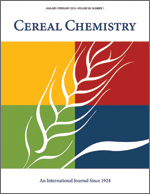 Cereal Chem 63:401-403 | VIEW ARTICLE
Stability of Enrichment Vitamins in Bread and Cookies.

G. S. Ranhotra and J. A. Gelroth. Copyright 1986 by the American Association of Cereal Chemists, Inc.

The stability of enrichment vitamins was examined in samples collected during various stages in bread and cookie production. Whereas riboflavin and niacin seemed to be quite stable in both products, the stability of thiamin differed widely. Thiamin was quite stable in bread, but about three-fourths of the thiamin in cookies was destroyed during baking. Compared to fresh products, shelf-stored products (bread for one week; cookies for four weeks) showed minimal additional loss of the three vitamins.