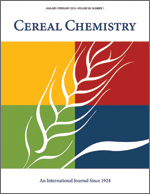 Cereal Chem 63:403-406 | VIEW ARTICLE
Odor Generation in Ground, Stored Pearl Millet.

V. P. Reddy, J. M. Faubion, and R. C. Hoseney. Copyright 1986 by the American Association of Cereal Chemists, Inc.

The characteristic mousy, acidic odor generated in ground pearl millet during brief storage was investigated and found not to be associated with oxidative rancidity of kernel lipids. Odor generation required relatively high moisture levels in the grits, suggesting that the process in enzymatic. Fractionation and reconstitution experiments showed the odor precursor to be extractable with methanol (but not petroleum ether) and retained on C-18 reverse-phase preparatory columns. When the methanol extract was further separated into water-soluble and water-insoluble fractions, the water-soluble fraction retained the ability to support odor generation. Ultraviolet scans of this active water-soluble fraction showed absorption maxima similar to apigenin, the aglycone of the major C-glycosylflavone present in pearl millet. The characteristic, odor associated with storage was formed when apigenin was added to methanol-extracted millet grits.