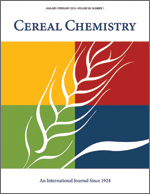 Cereal Chem 63:414-419 | VIEW ARTICLE
Characterization of Low-Molecular-Weight Protein with High Affinity for Flour Lipid from Two Wheat Classes.

U. Zawistowska, J. A. Bietz, and W. Bushuk. Copyright 1986 by the American Association of Cereal Chemists, Inc.

A low-molecular-weight protein (S protein) fraction with a high affinity for flour polar lipid was isolated from flours of one hard and one soft wheat variety. The fraction was characterized by lipid content and composition, acidic polyacrylamide gel electrophoresis (PAGE), gradient gel sodium dodecyl sulfate PAGE (SDS-PAGE), and reversed-phase high-performance liquid chromatography (RP-HPLC). The content of this protein in the two wheat varieties was approximately the same. Lipid contents and compositions of the two preparations were similar. PAGE and SDS-PAGE patterns were similar for both varieties, but RP- HPLC patterns were quite different. Defatting the flour did not affect the yield of S protein of the PAGE and SDS-PAGE patterns. The two major components of the S protein fraction were isolated by Sephadex G-50 gel-filtration chromatography and characterized by electrophoresis, amino acid analysis, and RP- HPLC. PAGE, SDS-PAGE, and amino acid analysis results did not show any significant intervarietal differences, but the S protein fractions appeared distinctly different upon RP-HPLC.