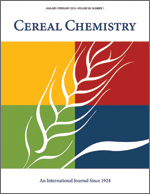 Cereal Chem 63:431-435 | VIEW ARTICLE
Effect of Smooth Roll Grinding Conditions on Reduction of Hard Red Spring Wheat Farina.

M. G. Scanlon and J. E. Dexter. Copyright 1986 by the American Association of Cereal Chemists, Inc.

A roll stand of the Grain Research Laboratory experimental mill equipped with 254 mm diameter frosted smooth rolls was used to examine the effect of feed rate, roll velocity, and roll differential on the reduction of hard red spring wheat farina. By increasing roll velocity or decreasing feed rate flour release was increased, milling energy consumption rose, and flour quality (ash and color) was improved. Increasing roll differential led to an increase in flour starch damage, flour water absorption, and milling energy consumption and a deterioration in flour quality (ash and color). These effects can be explained by the relative contribution of compressive and shearing forces acting on farina particles as they pass through the grinding zone.