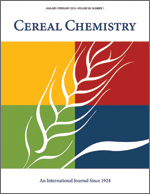 Cereal Chem 63:459-461 | VIEW ARTICLE
Usable Energy Value of Jojoba Oil.

G. S. Ranhotra, J. A. Gelroth, F. A. Novak, and F. Bohannon. Copyright 1986 by the American Association of Cereal Chemists, Inc.

For possible use in reduced-calorie baked foods, jojoba oil was assessed for its usable energy value. Weanling rats were fed diets where soybean oil, 24% of the diet, was increasingly replaced with jojoba oil. At levels up to 9% jojoba oil in the diet, the lean body mass (protein-water-ash matrix) of the rats was little affected, while their body fat content declined substantially. Based on these and other response parameters measured (e.g., efficiency of conversion of ingested energy to carcass energy), jojoba oil was estimated to contain very little usable energy.