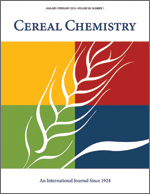 Cereal Chem 63:56-58 | VIEW ARTICLE
NOTE: The Influence of Chromosome Number and Species on Wheat Hardness.

P. C. Williams. Copyright 1986 by the American Association of Cereal Chemists, Inc.

Cereals of different species, varieties, and genotypes of diploid, tetraploid, or hexaploid genetic constitution were tested for hardness using an established grinding/sieving method, the particle size index test. Diploid types were all very soft, tetraploid wheats all very hard, and the combination of AABB with the DD genome in hexaploid wheats resulted in a complete spectrum of hardness, from very hard to very soft. A similar range of hardness was found in hexaploid triticales, whereas the diploid Secale (rye) lines were similar to diploid wheats in kernel softness.