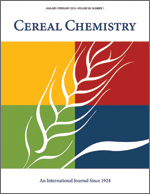 Cereal Chem 63:111-116 | VIEW ARTICLE
Two-Dimensional Electrophoretic Analysis of Wheat Kernel Proteins.

M.-G. Lei and G. R. Reeck. Copyright 1986 by the American Association of Cereal Chemists, Inc.

Wheat (Triticum aestivum) kernel proteins were fractionated by extraction or solubility in water, 0.5M NaCl, 70% ethanol, or 1% sodium dodecyl sulfate (SDS)/2% 2-mercaptoethanol. Protein components of each fraction were analyzed by two-dimensional electrophoresis. Both isoelectric focusing and nonequilibrium pH gradient electrophoresis were employed in the first dimension, and SDS slab gel electrophoresis was used the second dimension. Albumin and globulin fractions were found to have very different electrophoretic patterns, each with its own unique characteristics. The alcohol-extracted proteins and the SDS-extracted proteins had rather similar electrophoretic patterns. About 300 spots were resolved in the water-or salt-extracted proteins, and about 180 spots in the water- and -salt-nonextracted proteins. The nomenclature of wheat kernel proteins in discussed in light of our results.