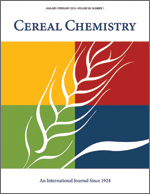 Cereal Chem 63:116-123 | VIEW ARTICLE
Two-Dimensional Electrophoretic Analysis of Kernel Proteins of Triticales and of Their Parental Durum Wheats and Ryes.

M.-G. Lei and G. R. Reeck. Copyright 1986 by the American Association of Cereal Chemists, Inc.

Two-dimensional electrophoresis, with nonequilibrium pH gradient electrophoresis in the first dimension and sodium dodecyl sulfate slab gel electrophoresis in the second, was used to examine the proteins in two triticale lines and in their parental lines of wheat (Triticum durum) and rye (Secale cereale). Kernel proteins were separated into fractions by extractions with water, 0.5M NaCl, and 1% sodium dodecyl sulfate/2% 2- mercaptoethanol. The electrophoregrams of the triticale protein fractions were generally similar but not identical to the electrophoregrams of the corresponding combined fractions of the two parents. Both quantitative and qualitative differences between polypeptides of triticales and their parental durum wheats and ryes were observed. Differences were also found between the polypeptides of the two durum wheats and a hexaploid (Newton) wheat that we have also studied with the same electrophoretic methods (Lei and Reeck 1986).