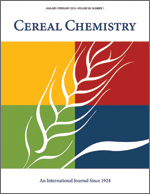 Cereal Chem 63:160-163 | VIEW ARTICLE
Isolation and Identification of Soluble Magnesium and Potassium Phytates from Rice Bran.

E. T. Champagne, R. M. Rao, J. A. Liuzzo, J. W. Robinson, R. J. Gale, and F. Miller. Copyright 1986 by the American Association of Cereal Chemists, Inc.

Soluble magnesium and potassium phytates and inorganic magnesium and potassium phosphates in rice bran were isolated on Sephadex G-25-50. The eluting phosphorus, magnesium, and potassium components were identified by inductively coupled plasma spectroscopy. The isolated soluble magnesium and potassium phytates had low metal to phytate ratios: approximately two magnesium ions and one potassium ion per phytate molecule at endogenous pH (7.1). The compositions of these soluble metal-phytate species were found to be pH-dependent. The number of magnesium and potassium ions associated per phytate molecule decreased with decreasing pH. At pH 2.7, no potassium ions were found associated with the soluble phytate, and the magnesium-to-phytate ratio was less than 1:1.