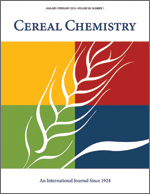 Cereal Chem 63:187-193 | VIEW ARTICLE
Studies on Heavily Ground Flour Using Roller Mills. I. Alteration in Flour Characteristics Through Overgrinding.

K. Okada, Y. Negishi, and S. Nagao. Copyright 1986 by the American Association of Cereal Chemists, Inc.

Two commercial mill streams, extracted from the inner (stream A) and outer (stream X) part of the endosperm of no. 1 Canada western red spring wheat, were reground up to 10 times with a Miag Vario- Roller mill, and changes in flour characteristics were studied. As the number of passes through the rolls increased, the bromate requirement lessened, the SH content of the water-soluble fractions and the sulfhydryl/disulfide ratio decreased, and the valorimeter value of the farinogram increased. These changes may have resulted from the oxidation of flour components during overgrinding by roller milling. Activities of alpha- and beta-amylase were not altered, but protease activity decreased, and amylograph viscosity decreased slightly with progressive overgrinding. Proteins of streams A and X were fractionated into three fractions by gel filtration on Sephacryl S-300. Overgrinding of the flour streams caused some minor shifts in the proportions of the protein fractions. The bread-baking properties of stream A, except for an increase in baking absorption, were unchanged, whereas the bread-baking properties of stream X improved with severe overgrinding. When starch damage was over 11%, the peaks at 75 C in Do-Corder curves were higher than the peaks at 85 and 95 C.