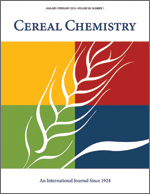 Cereal Chem 63:201-207 | VIEW ARTICLE
Description of a Production Model of the Tangential Abrasive Dehulling Device and Its Application to Breeders' Samples.

R. D. Reichert, R. T. Tyler, A. E. York, D. J. Schwab, J. E. Tatarynovich, and M. A. Mwasaru. Copyright 1986 by the American Association of Cereal Chemists, Inc.

A production model of a small-sample laboratory dehuller, the Tangential Abrasive Dehulling Device (TADD), used to stimulate abrasive dehulling equipment, is described. Abrasion is provided by a horizontally mounted grinding wheel or other abrasive, which rotates below and in close proximity to bottomless sample cups mounted in a sample-cup plate. As the grinding wheel rotates, seeds roll freely in the cups and are dehulled as they contact the abrasive surface. Bran material passes beneath the sample cups and is expelled. Up to 12 samples (ranging in size from single seeds to approximately 30 g) can be dehulled simultaneously. Larger quantities (up to approximately 2 kg) of fewer samples can also be dehulled by selection of an appropriate sample-cup plate or the single-track plate. Operating parameters affecting dehulling performance included speed of the grinding wheel, quantity of seed in the sample cups, and the clearance between the grinding wheel and the bottom edge of the sample cups. Grain hardness can be assessed by using grain depth measurements taken directly in the sample cup in lieu of sample weighing. Many cereals, legumes, and oilseeds varying widely in size and shape have been dehulled in the TADD. The TADD is also useful for seed scarification, degluming, and for assessing seed coat durability and dehulling quality.