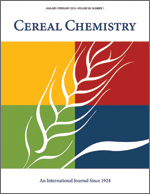 Cereal Chem 63:207-209 | VIEW ARTICLE
Sensory and Nutritional Properties in One Variety of Norwegian Whole Grain Bread.

G. Rognerud, B. Wilsher, A. M. Oybo, and W. Frolich. Copyright 1986 by the American Association of Cereal Chemists, Inc.

Kneipp bread from 24 bakeries in eastern and western Norway was analyzed for iron, thiamine, dietary fiber, and sensory properties. The amount of whole grain flour in each sample was calculated on the basis of its dietary fiber content. A considerable variation was found in iron and dietary fiber content and consequently also in whole grain flour content. Results also indicated that whole grain flour content in Kneipp bread has increased over the past five years. Sensory properties were correlated to content of dietry fiber. Significant correlation was found between fiber and impression of crust and crumb, texture of crust, and flavor.