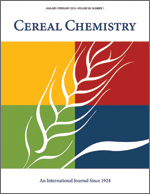 Cereal Chem 63:210-215 | VIEW ARTICLE
Fortification of Spaghetti with Edible Legumes. I. Physicochemical, Antinutritional, Amino Acid, and Mineral Composition.

Y. Bahnassey, K. Khan, and R. Harrold. Copyright 1986 by the American Association of Cereal Chemists, Inc.

Legume flour was obtained by dry milling nonroasted and roasted seeds of navy bean, pinto bean, and lentil. Protein concentrates were extracted from the legume flours by acid precipitation from dilute alkali solution. Comparison of the chemical composition of the legume flours and their protein concentrates with durum wheat semolina showed that all legume flours contained significantly higher protein, ash, fiber, and fat contents that the durum semolina. Fortified spaghetti was prepared from blends of legume flour or protein concentrates with a strong gluten durum semolina. Protein, ash, and fiber contents of the fortified spaghetti exceeded the levels for the control spaghetti. Trypsin inhibitor and hemagglutinin activities of legume flours and protein concentrates were slightly reduced in the roasted samples. Navy bean contained the highest amount of trypsin inhibitor and hemagglutinin activity followed by pinto bean and lentil. Legume flours also contained higher levels of both activities than protein concentrates. The legume flours and their protein concentrates had a relatively higher level of most amino acids than the durum semolina. The lysine content of legume flours and protein concentrates was about four times greater than that found in durum wheat semolina. However, the content of sulfur amino acids was lower in the legume samples than in the durum semolina. The amino acid composition of spaghetti made with 10 or 15% legume flours of protein concentrates showed a better balance of lysine and sulfur amino acids than spaghetti processed from 100% semolina. Mineral content of legume flour, protein concentrates, and fortified spaghetti was considerably higher than the semolina or control spaghetti. A pronounced shift in higher concentration of phosphorus, calcium, iron, zinc, and sodium into the protein concentrate was evident. Roasted samples showed higher levels of calcium, iron, and zinc than the nonroasted samples.