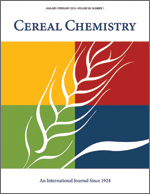 Cereal Chem 63:216-219 | VIEW ARTICLE
Fortification of Spaghetti with Edible Legumes. II. Rheological, Processing, and Quality Evaluation Studies.

Y. Bahnassey and K. Khan. Copyright 1986 by the American Association of Cereal Chemists, Inc.

Spaghetti was prepared from durum wheat semolina, blended with 3% vital wheat gluten, and fortified with 0, 5, 10, 15, 20, and 25% of nonroasted or roasted navy, pinto, or lentil flours or their protein concentrates to increase protein quantity. Supplementing semolina with legume flours or protein concentrates caused an increase in farinograph water absorption, except for blends containing 25% of the nonroasted and roasted pinto bean flour, in which a slight decrease was noticed. Dough development time and stability were higher for blends containing navy or pinto bean flours. A decrease in the mechanical tolerance index was obtained for blends containing different levels of navy or pinto bean flour or protein concentrates. Fortified spaghetti shattered earlier than control spaghetti. Cooked weight of fortified spaghetti showed a decrease as the level of fortification increased. Cooking time significantly affected cooked weight of spaghetti: the longer the cooling time, the higher the cooked weight. Cooking loss of fortified spaghetti was higher as the level of substitution increased and higher for spaghetti containing protein concentrates than for spaghetti containing legume flours. Firmness scores of the fortified spaghetti increased with the level of fortification. Taste panel evaluation showed that spaghetti supplemented with up to 10% of legume flours over the spaghetti containing legume protein concentrates. However, spaghetti containing 10% protein concentrates was also acceptable. Spaghetti made from roasted samples was preferred over nonroasted samples. A beany taste was reported for spaghetti containing 25% of nonroasted legume flours on their protein concentrates.