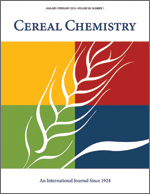 Cereal Chem 63:247-251 | VIEW ARTICLE
Effects of Storage Time, Storage Temperature, and Packaging Method on Shelf Life of Brown Rice.

R. N. Sharp and L. K. Timme. Copyright 1986 by the American Association of Cereal Chemists, Inc.

Brown rice was stored either in heat-sealed two-ply laminated polyethylene bags, in sealed polyethylene bags sealed in metal cans, or in perforated bags in a metal can sealed under vacuum at 3, 22, or 38 C. Samples were evaluated each month for nine months for development of off-odors and off-flavors by sensory evaluation. Tests were also run to evaluate changes in conjugated diene hydroperoxide and free fatty acid levels. Storage of brown rice at 8 C resulted in lower levels of free fatty acids and less change in odor and flavor than at the higher temperatures. No advantage was found in placing the sealed polyethylene bag in a metal can or vacuum sealing the metal can compared to sealing polyethylene bags. The combination of 3 C storage temperature and a sealed polyethylene bag provided the best shelf life for brown rice.