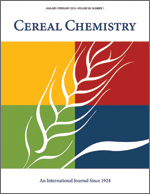 Cereal Chem 63:252-255 | VIEW ARTICLE
Effect of Soy Flour on Fat Absorption by Cake Donuts.

M. L. Martin and A. B. Davis. Copyright 1986 by the American Association of Cereal Chemists, Inc.

Soy flour is added to cake donut formulas to reduce fat absorption during frying. This study demonstrates that PDI (Protein Dispersibility Index) is not a good indicator of soy functionality for this application. At all PDI levels above 50, the quantity of soy protein added is the best predictor of fat absorption control. Only at a PDI level of 30 does the insoluble portion of soy protein lose functionality in reducing fat absorption.