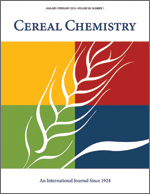 Cereal Chem 63:255-259 | VIEW ARTICLE
Physicochemical Properties of Alkali-Cooked Corn Using Traditional and Presoaking Procedures.

M. M. Morad, F. Y. Iskander, L. W. Rooney, and C. Earp. Copyright 1986 by the American Association of Cereal Chemists, Inc.

Compared to the traditional alkali cooking for corn, a 40% reduction in cooking time was achieved by presoaking before alkali cooking. Presoaking of white and yellow dent corn for 12 hr allowed imbibition of 45% of water and a 40-fold increase in calcium content. When presoaked or raw corn was cooked, dry matter losses, water uptake, calcium content, and enzyme-susceptible starch increased whereas amylograph maximum viscosity decreased. However, the decrease or increase in these parameters was faster in the presoaked corn samples than in the traditionally cooked corn. Scanning electron microscopy showed rapid changes occurring in the starch granules of the presoaked sample. For tortilla preparation, cooking 50 min after presoaking was required to optimally cook white or yellow corn compared to 80 min for the traditional alkali-cooking method.