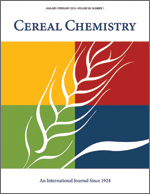 Cereal Chem 63:259-262 | VIEW ARTICLE
Denaturation of Wheat Germ Proteins During Drying.

C. E. Lupano and M. C. Anon. Copyright 1986 by the American Association of Cereal Chemists, Inc.

Wheat seeds (Triticum aestivum) of different moisture content were dried at different temperatures and times. Drying decreased the viability of the seeds, the heat of transition obtained by differential scanning calorimetry, and the solubility of germ proteins. Sodium dodecyl sulfate-polyacrylamide gel electrophoresis showed the disappearance of certain polypeptides after drying. These results indicate that the drying process causes a denaturation of the germ proteins. The results obtained by differential scanning calorimetry also suggest that the deterioration of wheat germ by high temperatures follows a first-order kinetics.