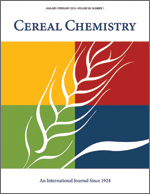 Cereal Chem 63:263-267 | VIEW ARTICLE
Factors Affecting the Breadmaking Potential of Four Secondary Hexaploid Triticales.

L. J. Macri, G. M. Ballance, and E. N. Larter. Copyright 1986 by the American Association of Cereal Chemists, Inc.

Factors affecting the breadmaking potential of four secondary hexaploid triticales were examined. Compared to Marquis wheat checks, triticales had lower test weights, higher thousand-kernel weights, and lower flour yields. The weight of dry gluten recover ed from the triticale flours varied widely, and all triticale flours had higher levels of alpha-amylase and exoprotease activity, similar levels of endoprotease activity, and lower gluten protein contents than the wheat flours. Triticale flours showed a direct increase in dry gluten content and gluten protein content, and general improvement in dough strength and loaf volume potential, with increasing protein content. In contrast, there was no apparent relationship between the loaf volume potential and protease activities of the flours. Despite the higher alpha-amylase activity in the triticale samples, only 4T triticale flour produced bread with a sticky crumb.