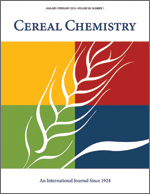 Cereal Chem 63:280-282 | VIEW ARTICLE
NOTE: The Effect of Commercial Processing on Some Chemical and Physical Properties of Oat Groats.

G. Lookhart, L. Albers, and Y. Pomeranz. Copyright 1986 by the American Association of Cereal Chemists, Inc.

Oat groats with protein contents of 16.2, 16.4, and 20.0% (N x 6.25 dry basis) from the oat genotypes Oglex, IL75-5860, and X4020-4-1, respectively, were sampled at various steps in commercial processing. The samples were: original cleaned groats, groats after drying at 121 C, and flaked produced by steaming at 100 C and rolling. Each sample was tested for gross composition, electrophoretic pattern, and cell-structure modification. Larger differences in gross composition were found among varieties than within samples at various stages of processing. Electrophoretic patterns of the avenin fractions, obtained by polyacrylamide gel electrophoresis, were identical for each sample of a given variety but different for each variety. Endosperm changes were noted after processing, especially heating, by scanning electron microscopy. It was concluded that commercial processing does not affect the avenin electrophoretic pattern even though small differences in gross composition (protein, ash, oil, and carbohydrates) and changes in microscopic appearance were found.