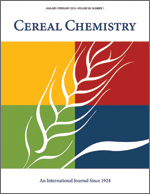 Cereal Chem 63:283-284 | VIEW ARTICLE
NOTE: Rapid and Simple Detection of a Mixture of Wet and Dry Corn.

Y. Pomeranz and Z. Czuchajowska. Copyright 1986 by the American Association of Cereal Chemists, Inc.

The presence of corn kernels that differ about 6% in moisture can be detected within 24 hr after blending. The detection is based on comparison between moisture determined by the conductance Tag-Heppenstall and oven drying or between the conductance and other electrical methods.