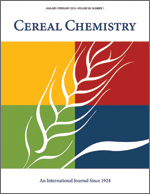 Cereal Chem 64:281-282 | VIEW ARTICLE

Note: Effect of Chlorination on the Hydrophobicity of Wheat Starch.

M. Seguchi. Copyright 1987 by the American Association of Cereal Chemists, Inc.

Aqueous suspensions of wheat prime starch chlorinated at various levels and containing isoamyl alcohol were vigorously shaken, and the volume and stability of the bubbles formed were measured. Bubble volume and stability increased with chlorination rate. Microscopic observation showed that chlorinated prime starch hydrophobically associated with isoamyl alcohol droplets, however, nonchlorinated prime starch did not. These observations showed the increased hydrophobicity of the surface of wheat starch caused by the action of chlorine gas.