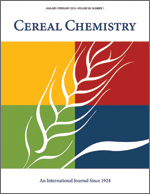 Cereal Chem 64:285-287 | VIEW ARTICLE

Note: Determination of Protein and 11 Elements in Six Milling Fractions of Two Wheat Varieties.

F. Y. Iskander, M. M. Morad, D. E. Klein, and T. L. Bauer. Copyright 1987 by the American Association of Cereal Chemists, Inc.

The concentrations of Br, Ca, Cl, Fe, K, Mg, Mn, Na, Rb, Se, and Zn were measured in a hard red winter (Scout 66) and a soft red winter (Coker 762) wheat cultivar using neutron activation analysis. The soft wheat had a higher concentration of Br, Cl, Fe, K, Mn, and Zn and a lower concentration of Ca. Depending on the particle size, the ground whole wheat was separated into six milling fractions labeled A (coarse) through F (fine). The highest concentrations of Ca, K, Mn, Na, Rb, Se, and Zn were found in fractions A and B. Except for Br and Cl, both cultivars showed positive correlations between the elements measured in the milling fractions. The in vitro protein digestibility for whole wheat was higher compared to that of fractions A and B, and lower compared to that of fractions C through F.