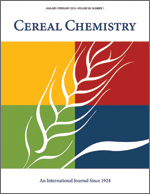 Cereal Chem 64:321-323 | VIEW ARTICLE

Properties of Pressure-Parboiled Rice as Affected by Variety.

K. R. Unnikrishnan and K. R. Bhattacharya. Copyright 1987 by the American Association of Cereal Chemists, Inc.

Five varieties of low-to high-amylose rice were parboiled by normal (full soaking, steam) and pressure- parboiling (partial or no soaking, pressure steam) methods. The hardness of cooked rice increased from mild, normally parboiled rice to severely pressure-parboiled rice, but the values sharply decreased from high- to low-amylose rice in each processing method. As a result, pressure-parboiled rice prepared from a low- or intermediate-amylose type was not very hard. Its rather long cooking time remained unaffected, however. Pressure parboiling appeared to be especially suited for parboil-canning processing.