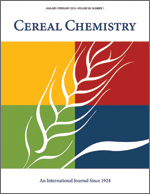 Cereal Chem 64:324-327 | VIEW ARTICLE

Glutenin of Marquis Wheat as a Reference for Estimating Molecular Weights of Glutenin Subunits by Sodium Dodecyl Sulfate-Polyacrylamide Gel Electrophoresis.

P. K. W. Ng and W. Bushuk. Copyright 1987 by the American Association of Cereal Chemists, Inc.

Molecular weights of glutenin subunits of the wheat cultivar Marquis were determined by polyacrylamide gel electrophoresis in the presence of sodium dodecyl sulfate (SDS-PAGE) using characterized proteins from other sources as molecular weight markers. The subunits of Marquis were then used as secondary standard reference proteins for the determination of subunit molecular weights of other wheat cultivars. Statistical analysis of replicate data for one cultivar (Neepawa) showed that the precision of the proposed method is better than 1.5%. The procedure has several practical advantages over the standard procedure based on marker proteins from other sources. Furthermore, it is recommended that molecular mass in kilodaltons (kDa), instead of arbitrary numbers, be used to identify glutenin subunits to facilitate interlaboratory comparison of results.