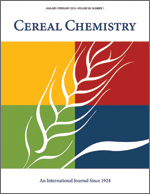 Cereal Chem 64:370-372 | VIEW ARTICLE

Test to Determine the Optimum Water Absorption for Saltine Cracker Doughs.

D. E. Rogers and R. C. Hoseney. Copyright 1987 by the American Association of Cereal Chemists, Inc.

Twelve commercial cracker flours and two flours milled from soft wheats were baked into crackers using a laboratory-scale baking procedure. Water absorption was varied and the optimum absorption was selected for each flour. A modified mixograph procedure was developed that enabled optimum baking absorption to be predicted before mixing a cracker sponge. Correlation of the mixograph procedure with the baking test was r = 0.95.