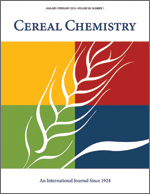 Cereal Chem 64:411-413 | VIEW ARTICLE

Air Classification of Rapeseed Meal.

R. D. King and H. M. Dietz. Copyright 1987 by the American Association of Cereal Chemists, Inc.

Air classification of defatted, pulverized rapeseed meal was studied. A protein shift into the fines of between 11.5 and 17.2% was observed. Correlations of the shift of glucosinolates and phytic acid with that of protein (r = 0.99 and 0.97, respectively) were significant (P less than 0.1% and P less than 1%, respectively). Concentrations of protein, glucosinolates, and phytic acid decreased at the lowest cut size (less than 3.5 micrometers). The preponderance of nitriles formed by the reaction of myrosinase on the glucosinolates was similar in all fractions.