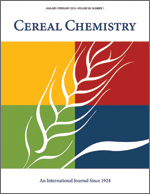 Cereal Chem 64:413-417 | VIEW ARTICLE

Nutritional Evaluation of Some Varieties of Sorghums (Sorghum bicolor (L.) Moench).

D. B. G. Banda-Nyirenda, P. Vohra, and K. H. Ingebretson. Copyright 1987 by the American Association of Cereal Chemists, Inc.

Sorghums grown in the 1980 and 1981 seasons were analyzed for dry matter, crude protein, indigestible residue, ether extract, ash, free sugars, starch, tannins, apparent metabolizable energy, and in vitro crude protein digestibility. Varietal as well as seasonal differences were observed in all the determined parameters. Tannin values depended upon the method used for their determination. Varietal differences were also found when these samples were incorporated in the diets of flour beetle (Tribolium castaneum) larvae to support their growth. Isonitrogenous diets containing sorghums and soybean meal as the main ingredients supported the growth of chicks to different extent depending upon the variety of sorghum. Apparent metabolizable energy and apparent nitrogen retention of these diets for chicks also had varietal differences.