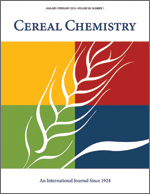 Cereal Chem 64:434-436 | VIEW ARTICLE

Evaluation of Spaghetti Supplemented with Corn Distillers' Dried Grains.

Y. V. Wu, V. L. Youngs, K. Warner, and G. N. Bookwalter. Copyright 1987 by the American Association of Cereal Chemists, Inc.

Spaghettis were prepared supplemented at 5, 10, and 15% levels with corn distillers' grains (CDG) or with CDG extracted with hexane-ethanol azeotrope. Spaghetti containing 10% CDG or 10% extracted CDG had 12-14% more protein and several times the dietary fiber of control spaghetti. Cooked weight, cooking loss, and firmness of supplemented spaghettis were acceptable. Spaghettis supplemented with 5 or 10% CDG or extracted CDG had fair flavor and texture quality, but spaghetti containing 15% CDG was unacceptable. These studies demonstrated that acceptable spaghetti can be prepared with up to 10% CDG, thereby improving its nutritional value while providing an additional market for CDG.