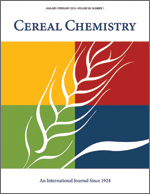 Cereal Chem 64:59-72 | VIEW ARTICLE

Immunochemical Methods in Cereal Research and Technology.

P. Vaag and L. Munck. Copyright 1987 by the American Association of Cereal Chemists, Inc.

Various applications of immunochemical techniques in basic and applied studies of cereals, here exemplified by studies on barley, malt, and beer, are reviewed. After describing the production of antibodies and the immunochemical methods (precipitation-in-gel techniques, nephelometry, radioactive immunoassay, enzyme-linked immunosorbent assay, immuneblot, immunoprecipitation), the paper reviews investigations where immunotechniques have been used to trace enzymes and other proteins from barley and malt during grain filling and germination and used to follow these proteins through the technological processes of brewing. Detection of proteins of nonbarley origin in barley and beer, i.e., contaminants, yeast proteins, and additives, is also discussed.