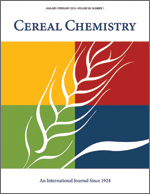 Cereal Chem 64:442-448 | VIEW ARTICLE

A Study of Gliadins of Soft Wheats from the Eastern United States Using a Modified Polyacrylamide Gel Electrophoresis Procedure.

R. L. Clements. Copyright 1987 by the American Association of Cereal Chemists, Inc.

The conventional continuous aluminum lactate-lactic acid buffered polyacrylamide gel electrophoresis system was modified by omitting aluminum lactate from the gel and lower (cathode) reservoir, giving a discontinuous system with the gel buffered with lactic acid only. Omission of aluminum lactate (usually contaminated) eliminates a potential source of impurities that affect gel formation and properties. Gliadins were extracted with ethylene glycol, giving high-density extracts that permit direct application to gels without additives. Using 10% acrylamide gel slabs, gliadin patterns of more than 120 soft red and soft white winter wheat cultivars were obtained. Patterns fell into four categories ("types") based on configuration of bands in the central region of the pattern: type I, a single heavy band; type II, two closely spaced heavy bands; type III, two widely spaced bands of moderate to heavy intensity; type IV, three (or more) bands of moderate intensity. About half of the cultivars studied were "Arthur type" (type II). Most soft white wheat cultivars were type III. Patterns of several cultivars (especially among types II and III) appeared to be very similar, if not identical.