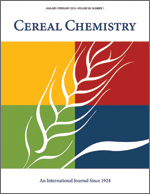 Cereal Chem 64:72-76 | VIEW ARTICLE

Effect of 1B-1R Chromosome Translocation on Milling and Quality Characteristics of Bread Wheats.

A. S. Dhaliwal, D. J. Mares, and D. R. Marshall. Copyright 1987 by the American Association of Cereal Chemists, Inc.

Backcross derivatives of three commercial Australian bread wheat varieties carrying the 1B/1R translocation were compared with their recurrent parents for a range of milling and quality characteristics. The 1B/1R translocation generally had no major deleterious effects on 1,000-grain weight, test weight, grain protein, flour protein, grain hardness, milling quality (flour yield and color) or farinograph water absorption. In the hard wheats the 1B/1R translocation did substantially and consistently reduce SDS- sedimentation volume and dough development time. There was also a tendency towards reduced extensigraph resistance and extensibility. However, for the latter characteristics the best 1B/1R derivatives were similar to the recurrent parents. In sharp contrast, in the soft wheat derivatives there was no evidence that the 1B/1R translocation significantly reduced SDS-sedimentation volume, dough-development time, or extensigraph resistance. In this case, however, dough extensibility was consistently reduced in the 1B/1R derivatives. The reasons for this contrast between the effects of the 1B/1R on hard and soft wheats is unknown and deserves further study.