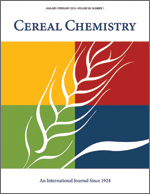 Cereal Chem 64:77-80 | VIEW ARTICLE

Development of an Equilibrium Dialysis Technique for Quantifying Starch-Lipid Complexes.

D. E. Hahn and L. F. Hood. Copyright 1987 by the American Association of Cereal Chemists, Inc.

A sensitive equilibrium dialysis technique for evaluating starch-lipid complexes was developed. The use of 14C-labeled lipid permitted accurate quantification using lipid concentrations that were soluble in water. An evaluation of membrane materials differing in chemical composition showed conventional regenerated cellulose dialysis film to be most effective in retaining dispersed starch while minimizing lipid adsorption to the membrane. A 12-hr dialysis was necessary to attain equilibrium. The complex was soluble in water and complex formation was reversible. The amount of bound lipid was affected by starch concentration.