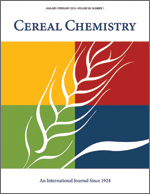 Cereal Chem 64:81-85 | VIEW ARTICLE

Factors Influencing Corn Starch-Lipid Complexing.

D. E. Hahn and L. F. Hood. Copyright 1987 by the American Association of Cereal Chemists, Inc.

Lipid complexing by starch in aqueous dispersions was measured using equilibrium dialysis. An increase in saturated fatty acid or monoglyceride chain length resulted in higher binding values. Analysis of the cis unsaturated C-18 series of fatty acids showed that binding decreased as the number of double bonds increased. Lipid complexing decreased as temperature increased from 20 to 60 C. Lauric acid was the exception, showing no change. Varying the pH from 3.0 to 7.0 had no effect on binding values for any monoglyceride, C-18 cis unsaturated fatty acid, lauric or myristic acid. Higher levels of palmitic and stearic acid were bound as pH was increased from 3 to 7. Myristic acid and monomyristin incubated at pH 3 and 5 (40 C) showed no change in binding over the buffer molarity range of 0.2-0.8M. In contrast, binding increased for these lipids with an increase in buffer molarity at pH 7. Waxy maize and hydroxypropyl corn starch bound less lipid than unmodified corn starch.