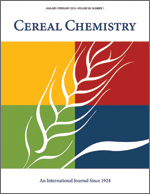 Cereal Chem 64:91-93 | VIEW ARTICLE

Characterization of Protein Concentrates of Jojoba (Simmondsia chinensis) Meal.

M. O. Wiseman and R. L. Price. Copyright 1987 by the American Association of Cereal Chemists, Inc.

Protein was extracted from mechanically pressed and hexane-extracted jojoba seed meal (Simmondsia chinensis), using four different procedures. These methods involved extracting protein with water, extracting protein with 0.15M NaCl, washing the meal with methanol/acetone (3:1) before extracting protein with water, or then rewashing this concentrate with methanol/1N HCl (98:2). The soluble protein content of the defatted meal was 20%. The above procedures recovered 18-65% of the total protein in the meal. Trypsin inhibitor activity and phytic acid concentrations were reduced to acceptable levels. Concentrations of simmondsin and polyphenolics were also significantly reduced.