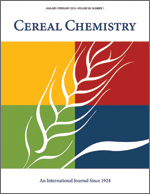 Cereal Chem 64:94-97 | VIEW ARTICLE

Functional Properties of Protein Concentrates from Pressed Jojoba Meal.

M. O. Wiseman and R. L. Price. Copyright 1987 by the American Association of Cereal Chemists, Inc.

Seeds from Simmondsia chinensis were commercially pressed and defatted with hexane. Protein concentrates were prepared from the oil-free meal by four methods: extracting protein with water; extracting protein with 0.15M NaCl; after washing the meal with methanol/acetone (3:1), extracting protein with water (SDI); rewashing SDI with a solution of methanol and 1N HCl (98:2)(SDII). These concentrates were evaluated for their functional properties of protein solubility, gelation, water absorption, oil absorption, and foaming. The protein concentrates were more soluble at alkaline pH than at neutral or acidic pH. Gelation required dispersions with at least 6% protein at neutral pH and at least 20% protein at alkaline pH. Capacities for absorbing oil and water were similar to those of soy protein concentrates. The most stable foams were formed at pH 4. The foaming properties of SDII concentrate were further tested at 4, 37, 55, 80, and 110 C; and in the presence of sucrose, potassium acid tartrate, salt, and both sucrose and potassium acid tartrate. The foam capacity of protein dispersions held for 30 min increased as incubation temperature increased to 110 C. The additives did not affect the expansion capacity or stability of the foams. The capacity and stability of foams from jojoba protein concentrates were similar to those of egg albumin.