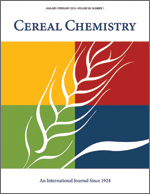 Cereal Chem 64:116-120 | VIEW ARTICLE

Thiamine Partitioning and Retention in Cooked Rice and Pasta Products.

H. T. VanDrasek and J. J. Warthesen. Copyright 1987 by the American Association of Cereal Chemists, Inc.

Brown and enriched white rice were examined for thiamine leaching characteristics and stability under alkaline conditions during cooking. Rapid, initial thiamine leaching was followed by thiamine uptake as water was absorbed during cooking of white rice. Thiamine leached from brown rice throughout the cooking process. Thermal degradation was slower in brown than in white rice, but the extended cooking period required for tenderness in brown rice resulted in a greater percentage of thiamine loss. Fourteen pasta samples, representing six pasta types, were examined for thiamine leaching and destruction during cooking. Thiamine loss during cooking of pasta products was evident only through leaching; thiamine retentions ranged from 47 to 66% in cooked pastas. Differences in thiamine retention among the pasta samples were related to the nature of the food matrix involved.