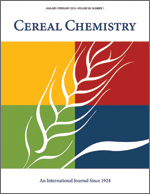 Cereal Chem 64:172-176 | VIEW ARTICLE

Evaluation of Sulfhydryl Oxidase as a Strengthening Agent for Wheat Flour Dough.

S. P. Kaufman and O. Fennema. Copyright 1987 by the American Association of Cereal Chemists, Inc.

Sulfhydryl oxidase (SO), an enzyme that catalyzes formation of disulfide bonds, was used in trials involving baking (two flour types), mixograph measurements (weak and strong flours), and flour-buffer suspensions to determine whether this enzyme would influence dough rheology. The enzyme was isolated from skim milk membranes using gel exclusion chromatography. SO was tested in the presence of two constituents known to enhance its activity, glutathione disulfide and horseradish peroxidase. 5, 5-Dithiobis-(2- nitrobenzoic acid) (DTNB) was used to monitor SO activity during its purification and during subsequent trials with flour and buffer suspensions, with turbidity corrections employed in the latter case. SO had no detectable effect on loaf volume, mixograph measurements (mixing stability, extent of dough breakdown), and the number of free sulfhydryl groups in flour. The inability of SO to strengthen wheat dough is likely attributable to its inability to catalyze formation of disulfide bonds in the systems tested, or its known inability under any circumstances to catalyze thiol-disulfide interchange reactions.