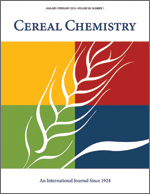 Cereal Chem 64:187-190 | VIEW ARTICLE

Differential Scanning Calorimetry of Raw and Annealed Starch Isolated from Normal and Mutant Maize Genotypes.

B. R. Krueger, C. E. Walker, C. A. Knutson, and G. E. Inglett. Copyright 1987 by the American Association of Cereal Chemists, Inc.

Differential scanning calorimetry was used to study gelatinization of laboratory-isolated starch granules from normal and mutant maize varieties. Samples were studied in their native condition and after annealing by heating at 50 C in excess water for 48 hr. Native starches exhibited considerable variation in enthalpy and temperature range of gelatinization in a pattern consistent with the composition and degree of crystallinity of the starch, i.e., starches with the highest amylopectin content (and hence the highest degree of crystallinity) had the highest enthalpy and narrowest temperature range of gelatinization. Annealing caused an increase in enthalpy and narrowing of temperature range for all starches; the extent of these changes was inversely proportional to the degree of crystallinity of the native starch.