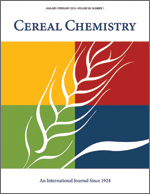 Cereal Chem 64:193-195 | VIEW ARTICLE

Note: Navy Bean Flour Substitution in a Master Mix Used for Muffins and Cookies.

N. D. Cady, A. E. Carter, B. E. Kayne, M. E. Zabik, and M. A. Uebersax. Copyright 1987 by the American Association of Cereal Chemists, Inc.

A master mix was developed with levels of 0, 25, and 35% whole, dehulled navy bean flour substituted for all-purpose wheat flour. Effects of navy bean flour substitution on the physical and sensory qualities of pumpkin spice muffins and oatmeal drop cookies were investigated. A high-quality muffin was produced with no significant differences (P less than 0.05) between controls and 25 and 35% substitution levels in all parameters investigated. Whole, dehulled navy bean flour substitution in oatmeal cookies did not significantly (P less than 0.05) affect objective tenderness, spread, color or sensory color, appearance, and flavor, but did significantly (P less than 0.05) affect sensory texture and general acceptability. Incorporation of navy bean flour into a master mix is a feasible way to produce quality products with increased protein and mineral contents.